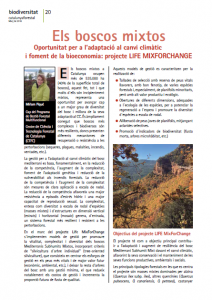 The magazine Catalunya Forestal publishes the first article of the LIFE MixForChange project in its number 135, under the title "Mixed forests. Opportunity for climate change adaptation and bioeconomics promotion: LIFE MixForChange project."
In addition to the description of the project, the article details objectives and work areas of the MixForChange. As for the management for the adaptation to climate change of the Mediterranean forest, the article explains its bases and the management models that will be implemented within the framework of the project.
You can read the complete article in this link.