Project partners
Coordinator:
Forest Sciences and Technology Centre of Catalonia (CTFC):

The mission of CTFC is to contribute to the modernisation and competitiveness of the forest sector, to rural development and to the sustainable management of natural habitats, through research, training and transfer of knowledge and technology to society.  In this context, activity carried out is aimed at solving problems related to ecosystems management and to interaction of natural resources with society, with the aim of improving the wealth and well-being of people and the environment sustainability in aglobal change context.
Project Partners:
Forest Ownership Centre (CPF)

The Forest Ownership Centre (CPF) is a public entity part of the Ministry of Agriculture, Livestock, Fisheries and Food of the Generalitat de Catalunya. The main objective of the CPF is to promote sustainable forest management of privately owned forests through forest management, active management support and promotion and transfer of best practices in the sector.
Forest Owners Association of Serra de Bellmunt-Collsacabra (APFSBE)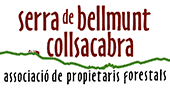 The APFSBE is a private non-profit entity linking forest owners in the Bellmunt mountain range, bounded by the geographic areas of La Vall del Ges, Orís and El Bisaura. There are 9 municipalities: Montesquiu, Sora, Sant Quirze de Besora, Santa Maria de Besora, Vidrà, Torelló, Sant Pere de Torelló, Sant Vicenç de Torelló, Orís.
Objectives of APFSBE are to manage the existing forest masses on the partners farms , to implement improvement plans, to carry out studies on the forests functioning and problems in the area and to collaborate with other entities for the prevention of forest fires, with the aim of protecting and conserving forests and their biodiversity.
Owners Association of Montnegre i Corredor (APMC)

 APMC is a non-profit association whose scope of action is carried out in the municipalities bordering the Montnegre-Corredor mountain range, with a total forest area of 27,800 ha.
Objectives of the APMC are: to unify the voice of the property to administrations, to promote sustainable forest management according to the nature of the Montnegre and Corridor forests, to contribute to farms revitalization, to undertake joint actions and to disseminate knowledge of the Montnegre and Corridor by conducting studies, organizing meetings and editing publications.
Collaborators: